Scribers for Log Home Building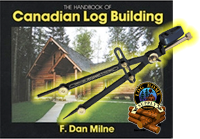 Scribers are used to mark the contour of the bottom log to the top log for removal of wood for the "fitted" or "scribe-fit" style.
Scriber Special: We are often asked how to use a log scriber. We suggest the Handbook of Canadian Log Building. It has an excellent, full color pictorial on how to use a scriber as well as other aspects of log construction. To help you get started with your own log building project, we offer a
$10.00 Discount if you buy one of our scribers and this book. If you call in your order, just ask for the "Scriber Special". If you are ordering online, your discount will be applied after we
receive your order. For more detailed technical information on log building we recommend the Log Construction Manual by Rob Chambers.