Chinking for Log Homes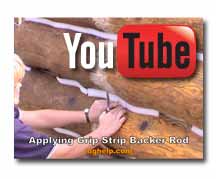 Chinking is a flexible sealant also known as synthetic mortar and is used to "chink" or seal the log joints of log homes.
We offer quality chinking log products and supplies including Perma-Chink, Sashco Log Jam and Chinker's Edge Chinking, Weatherall 1010 Chinking and Triple Stretch Chinking, and Log-gevity Chinking. Brush Over is a chinking coating that can be used to recolor existing chinking or touch up areas of chinking that may be discolored from log restaining.

C
hinking Joint Design Chinking joint width of your logs should be between 1/4" and 2
"
and four times the anticipated movement. For chink joints 1" or more, the depth of the joint should be 3/8" to 1/2". The depth of chinking joints less than 1" wide should be half the width but no less than 1/4
"
.

Chinking joint depth should be 1/4"-1/2".
See Backer Rod and Chinking Part 1 and 2 for more information.

Chinking FAQs
Can I stain before chinking? When applying 1010 Chinking or Log Jam Chinking and using a water based stain, the chinking may be applied before of after staining. If using oil-based log finishes like NatureColor Base or Recoater, WeatherSeal, Woodguard, or WR-5:

Apply chinking over one coat, and then apply a second coat of log finish the following year.

Before chinking, wait at least 21 days after staining to allow for cure time. Outlast Q8 Log Oil can be chinked with a urethane caulking after 30 days. If using a water based chinking wait 60 days in warm weather (Summer) and 90 days if cooler or Spring/Fall. Paraffinic oils like in X-100 can cause adhesion failures.

Do I need Backer Rod? Yes, if chink joints are greater than 1/4". See Backer Rod and Chinking.

Chinking Application Temps - What does the temperature need to be to apply chinking? See Surface Preparation.

Chinking Blisters - How do I prevent them? Click here for details.

Chinking Tools - What can I use to smooth out my chinking?
People use various kinds of chinking tooling devices. Butter knives, fingers, and foam brushes like the Padbrush are used. The Padbrush, kept damp, works well for Log Jam chinking.

How Much Chinking Do I Need?
See our Chinking Calculator below.
Chinking Calculator